Buying a car, whether it's new or used, is almost always an exciting purchase. Whether it's a car with better features, something that is more 'your style', or something else, it's just fun to drive around in something new. But, with a new car, usually comes a new loan. To make sure you are having the ultimate fun with your new vehicle, make sure you have the best financing.
Here's what to watch out for when car shopping at dealerships or financing at another institution other than CSE.
Don't let dealers jack up the price of the vehicle.
Do your research before heading to the dealership. It's a good idea to know exactly what vehicle you're looking for and what the value is with and without all the 'bells and whistles'. Take it a step further and be sure you know exactly how much the vehicle you're looking at is worth in your area so you know if the dealer is trying to tack on added costs to the price.
Don't let dealers undervalue the amount of your trade-in.
Another thing to do before heading to the car-lot: if you plan on trading in your current vehicle as partial financing toward a new one, know its trade-in value. Many dealerships may short-change your trade-in amount in hopes you'll take whatever they'll give you. They'll look for every little thing that is wrong in your trade-in. Don't be afraid to negotiate or go elsewhere if you're not satisfied with their offer. Helpful tools in researching your current car's value are NADA Guides and Kelly Blue Book.
Don't let dealers or other lenders mark up the interest rate.
When financing at dealerships specifically, they typically look at what is called an auto-enhanced credit report, rather than an all-inclusive credit report. An auto-enhanced credit report weighs heavily on whether you specifically pay on your past car loans, so your chances of being approved might be a little higher. However, it also can have a greater impact on the rate you are offered. So, if they see anything, they deem unworthy such as one late loan payment, they may jack up the interest rate 2-3%. That may not seem like much at first but this can cost hundreds over the lift of your loan.
Don't let dealers run your credit everywhere.
Before starting any financing process at a dealership it's always a good idea to consider how many lenders they're sending your application to and how many times your credit will be pulled in the process. This could harm your credit score, especially if they're running it many times, or if you visit several dealerships and have each of the dealers attempt financing during the car-search process. It's always a good idea to get financed at one financial institution that you trust, that way you know for certain that your credit will be pulled only once. Remember, pre-approvals are typically your best option before car shopping if you don't want your credit ran through several lenders. They can also provide you leverage in negotiating price, as you are generally considered a 'cash' buyer (since you don't need dealer financing).
Don't fall for overpriced add-ons.
Add-ons, such as Guaranteed Auto Protection (GAP) and Credit, Life and Disability insurance are really beneficial if you total your car, or are no longer able to make your payment for some reason or another. At CSE our add-ons add merely a few dollars to our member's monthly auto payment, where at a dealership you could be looking at hundreds of dollars over what others would offer the same add-on for.
Look out for outrageous fees.
From application to processing, and even documentation fees – be leery of these fees that are added. They're usually added on just to get more money out of you. At CSE we have NO application or processing fees for any of our auto loans!
Always remember that getting a pre-approval through a financial institution that you trust (such as CSE Federal Credit Union) is a great alternative to financing through a dealership. Shopping with a pre-approval shows the dealership your buying power, that you're serious and that you don't want to jump through their hoops.
If you're in the market for a new or used vehicle thing Spring, make CSE your first stop before going car shopping! Right now, we have our auto loan special that may be just the right fit for your financing. It's a GREAT IDEA to get a new or used auto loan at CSE because with have flexible terms, payments to fit your budget, no application or processing fees and you can walk into-the dealership confident with a pre-approval!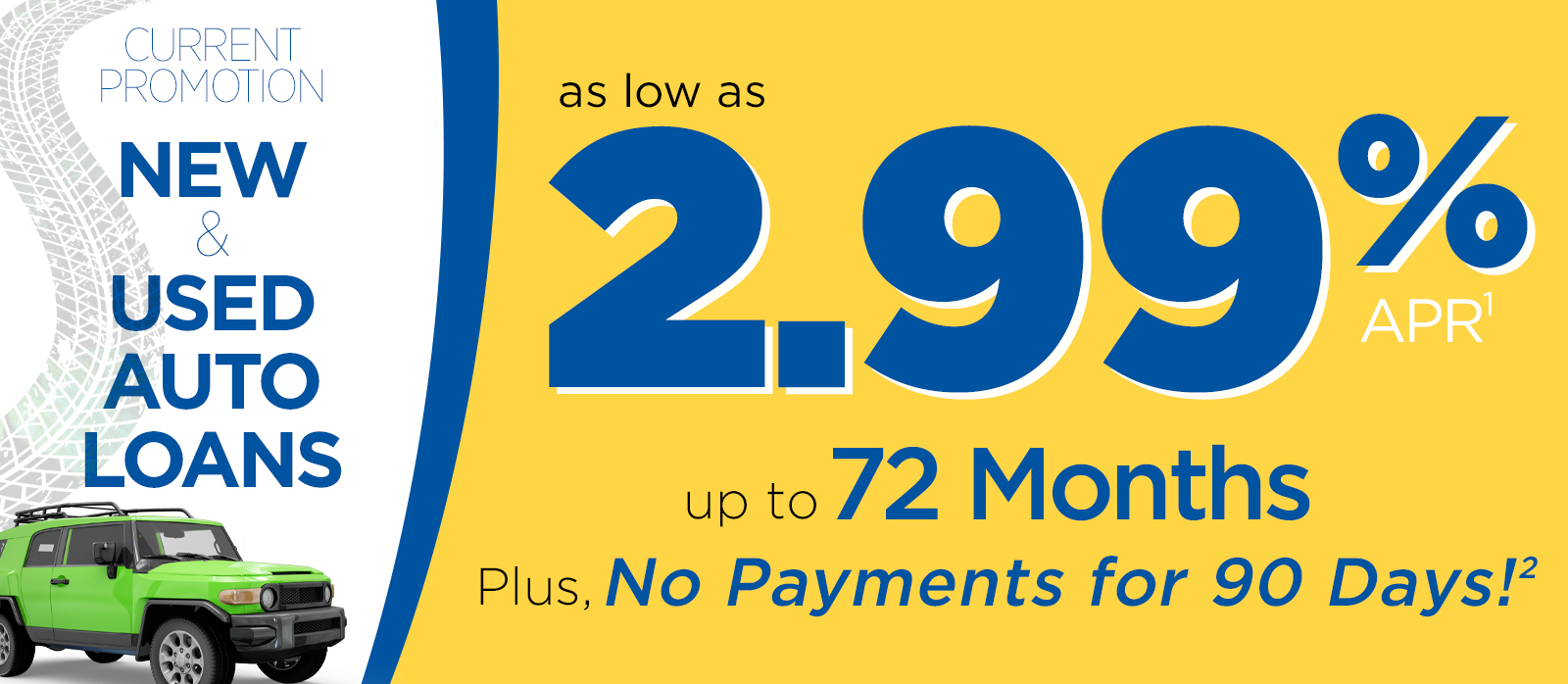 1. APR = Annual Percentage Rate. Loan Rates are based on credit score and term of loan. A sample monthly payment for a loan of $20,000 and a term of 72 months at 2.99% APR would be approximately $303.78. 2.99% rate reflects 0.25% rate discount when setup on auto pay. All rates and promotions subject to change without notice. 2. First payment will be due 90 days from closing of the loan. Finance charges begin accruing as of the loan disbursement date. All loans are subject to approval meeting standard credit union underwriting guidelines. If refinancing an existing CSE auto loan, refinanced loan must include at least $2,000 cash out. Offer excludes mortgage loans, credit cards, unsecured loans, share secured loans and any commercial loans. Offer is valid beginning March 1, 2021. Programs, rates, terms and conditions are subject to change or end at any time without notice. INSURED BY NCUA.