Make Your Bills More Manageable with a Visa Balance Transfer
What Is a Balance Transfer?
First, it's important to know, what is a balance transfer? Simply put, a balance transfer is when you transfer a balance from one credit card to another. Generally, when consumers perform balance transfers, the card to which they are transferring debt has a lower, promotional interest rate in order to save them money on their balance transfer.
In our CSE Couch Chat Video on Balance Transfers, we sit down with one of CSE's card specialists to learn a little more about how balance transfers and why it may benefit a member. Or, continue reading about our promotion below.
How can a Balance Transfer make your bills more manageable?
Completing a balance transfer could potentially save you money. You might be able to save money on interest charges when going from a high-interest rate card to a lower APR card.
It can help you simplify things. Transferring multiple card balances to one card, it can help make payments simple and more easily organized.
It may help you pay down your debt faster. With a lower interest rate, you're likely to pay down your balance faster.
If this sounds like a right fit for you and how you'd like to manage your money, take advantage of our Balance Transfer Special! CSE's Visa Balance Transfer Special happening February 20th through April 19th, 2023.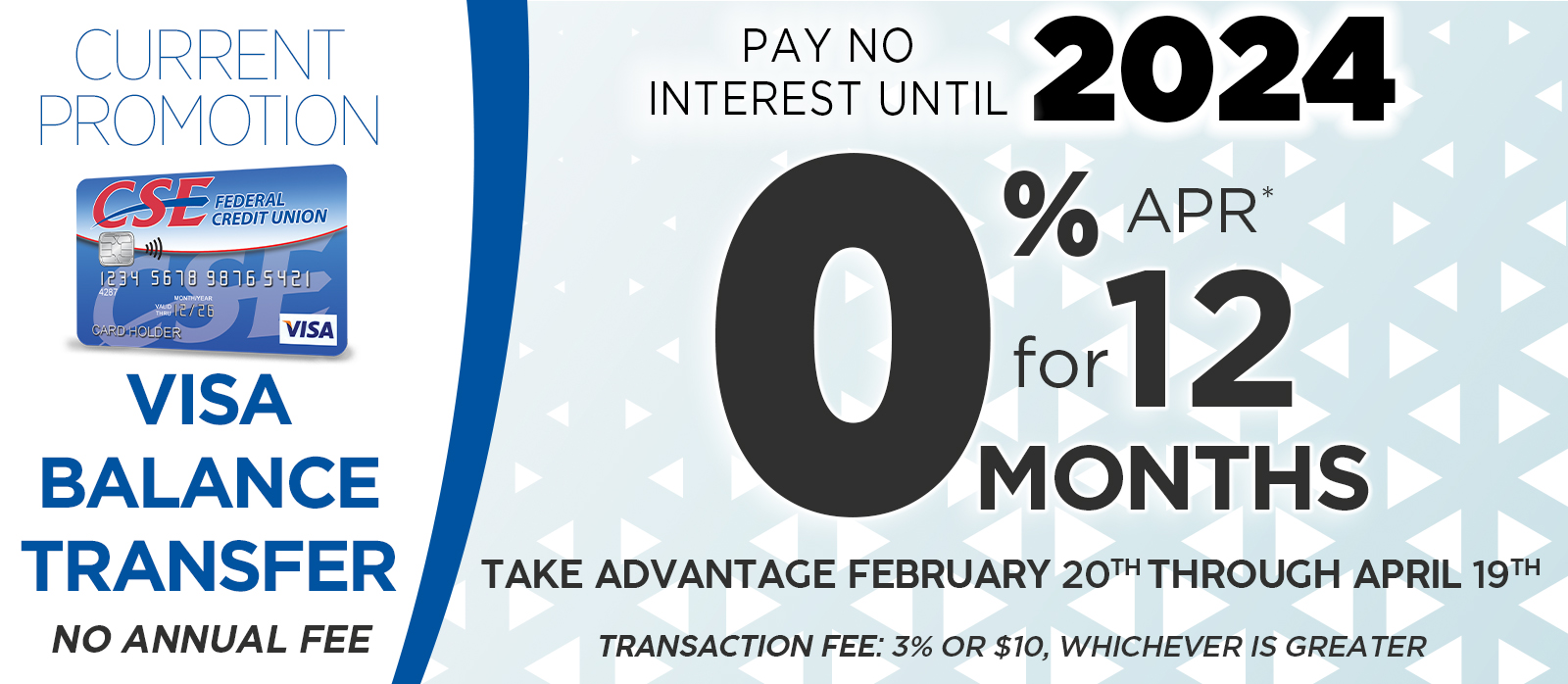 How to Complete a Balance Transfer
(Disclaimer: the following instructions apply to a CSE Visa, but are likely similar to what you would need to do for another card issuer.)
If you already have a CSE Visa card, you can go to MyCardInfo by logging into eBranch or your mobile app and clicking on Access MyCardInfo. If you do not yet have a CSE Visa card, you can apply here.
Once at MyCardInfo, click on "Balance Transfer" in the Account Services dropdown. You'll need to provide a few details to perform the transfer:
Dollar amount you wish to transfer (this is a portion of, or all of, the existing balance you owe from the other card)
Account number of the card you are transferring from
Card issuer name
Card issuer statement address (address where your payments would be mailed)
Otherwise, you can contact CSE and we can process balance transfers with you, either in person or over the phone!
Get Started with a Balance Transfer Today!
*APR = Annual Percentage Rate. 0.00% Promotional APR is for 12 months with a 3.00% fee or $10.00, whichever is greater. Promotional APR is good only on balance transfers made from February 20th through April 19th, 2023 by new or existing cardholders. The promotional rate of 0.00% APR is applied for 12 consecutive billing cycles from the date of the balance transfer unless the account becomes delinquent and/or over the limit. After the 12 billing cycles, the 0.00% Promotional Rate will revert back to the standard fixed rate for purchases and/or balance transfers between 8.25% APR and 18.00% APR depending on your creditworthiness at the time of account opening. This offer is a limited-time offer and can be changed or discontinued without notice. Balance Transfers cannot be used to pay existing CSE Federal Credit Union debts.